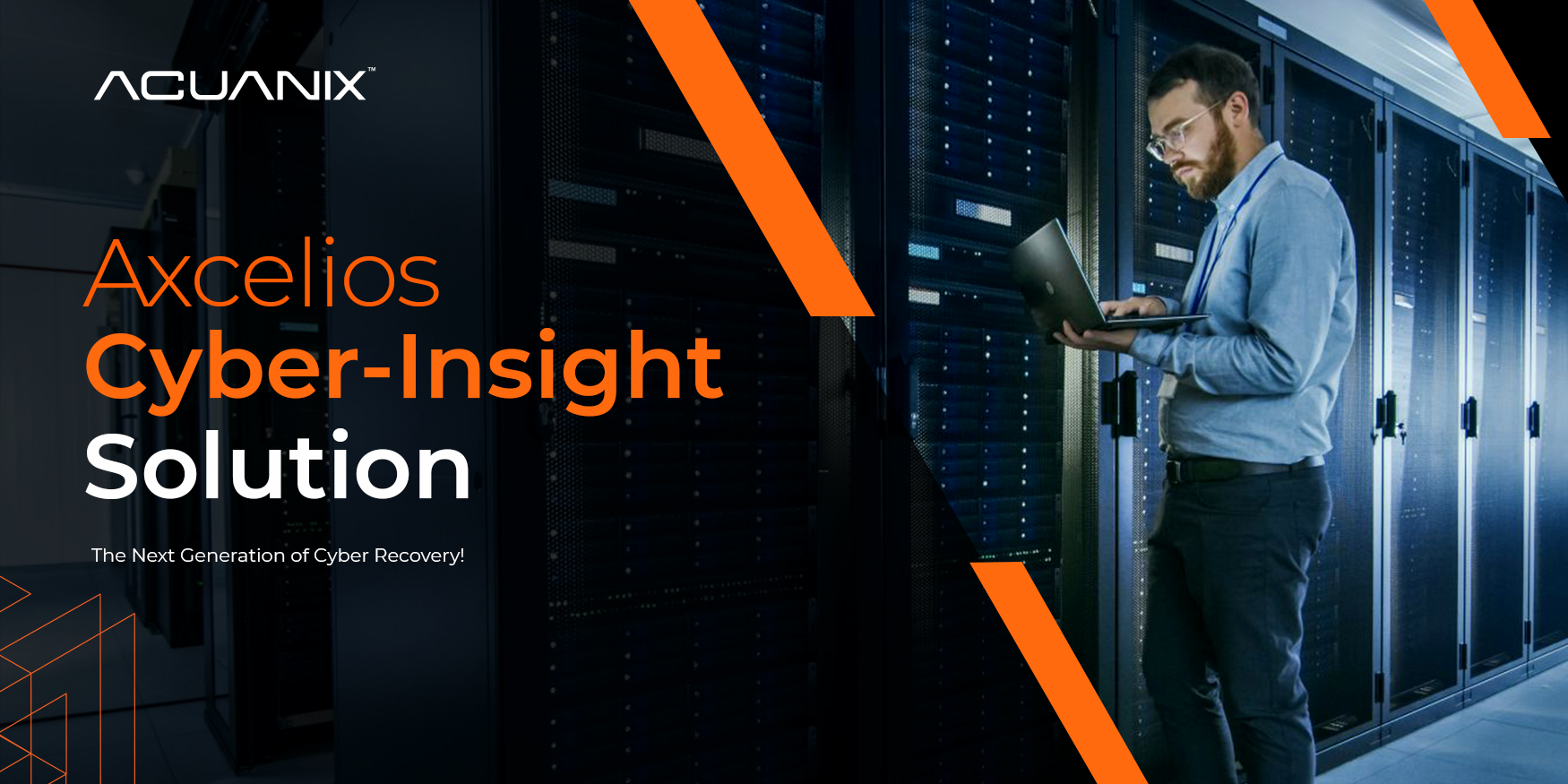 AXCELIOS Cyber-Insight Solution
Data is a business's most valuable asset because it represents the business's identity. Any disaster that happens to the data affects the business's all sectors. The technique of storing, collecting, securing, and saving a business's data so that it may be examined for business decisions is known as data management. Data management solutions have several types that enhance the business's data protection from any disaster.

Data management software benefits businesses in identifying and resolving domestic problems. With security and protection solutions, data management protects your business and its employees from data losses, breaches, and attacks. Effective data security means that critical company data is backed up and recoverable in the situation that the main data collapses. Backup and data recovery are handled automatically by the Data management solutions. Users do not need to back up data regularly because the Data management solutions do it for them. It also restores the data from its previous state after a disaster or hardware failure.

Cybercrime, Ransomware attacks, and hacking are going harmful to businesses with increased losses and market credibility. They are getting vast like never before, non-stop! no exception for any business size or industry type.

Weak or absence of Data protection, Data Isolation, and Data Recovery give better chances for data destruction. In such cases, the backup is under attack. Unfortunately, there are several vulnerable gaps because backups were designed for accessibility, and not necessarily for security.


AXCELIOS Cyber-Insight solution

The AXCELIOS Cyber-Insight solution empowers "Mission-Critical" business data in a secure, Air-Gapped 'VAULT' environment for recovery or analysis purposes. The Cyber-Insight Vault is physically fully isolated from the production system or the network.

AXCELIOS Cyber-Insight solution has been intelligently designed to monitor data replication processes from the production network to the isolated vault. This keeps the Network connection open "conditionally & dynamically" during data replication activities. This occurs in an automated secure Air Gap network for business-critical data. During idle times, the AXCELIOS Cyber-Insight solution vault is secured with the network disconnected.

Having a "Clean Backup" image is mandatory before any expected Cyber-Attacks and Ransomware disasters. This enables businesses to recover uninfected images and run a smooth recovery process. The entire process should be pre-planned and organized.

AXCELIOS Cyber-Insight solution empowers your business with an all-in-one solution. It includes a very powerful tool to ensure validity and clean backup images from any ransomware. Having insight into all backup images in the isolated Vault; it reports the clean/unclean images off. This enables fast and safe data restoration with confidence.

AXCELIOS Cyber-Insight solution taking the whole process to the next level! It builds a recovery template; ensuring recovery procedures readiness and in place. It helps to recover "Critical Business Application(s)" with all its dependencies with a few guided clicks. It is used – effectively - to automate the restoration process inside the vault.


AXCELIOS Cyber-Insight solution features:

Air-Gap Network Automation: Automates the Air-Gap isolated Network to have a secure copy of data in the isolated air-gapped network.


Backup Insights&Analysis: Instant automated alert in case of abnormal or malicious Ransomware activity discovered. It identifies infected backup images to have actual and instant insight during the recovery process.


Recovery Profiles: This intelligent module, helps in building predefined recovery profiles to automate the recovery process for each Application with all its dependencies in a working state with few clicks.


HOW DOES THE AXCELIOS CYBER-INSIGHT SOLUTION WORK?

AXCELIOS Cyber-Insight solution performs analysis on each backup image snapshot indexed inside the Vault site. The analysis is largely based on file system behavior and content analysis. The detection process has two main parts:
File system METADATA analysis:
This module Performs behavioral analysis on the file system Metadata information; considering certain items such as the number of files added, number of files deleted, number of files replaced with decoys, files with new extensions added, and files encrypted with Ransomware … etc.
Hence, it creates a historical baseline that gets refined over time through Machine Learning algorithms. This information is used to detect Anomalies in behavior for future scans. The Machine Learning algorithms have been trained by most Ransomware and leverage analytics to understand how data has changed.
File content analysis:
Once suspicious behavior is detected then further analysis is performed on the suspicious files. The content analysis starts to detect Ransomware. This leads to more accuracy and a higher detection rate.



AXCELIOS CYBER-INSIGHT SOLUTION PROACTIVE ALERTING SYSTEM:

Instant, Ready and Accurate!
Upon detection of anomalous behavior or Ransomware attacks by the AXCELIOS Cyber-Insight solution, an alert is automatically generated and sent to network administrators. It differentiates the high or low number of encryption indicators. This alerting can be configured to send Email or SMS notifications to multiple parties.
Once the alert is triggered, the full report shall be sent to the system administrator. The details detection report contains anomaly statistics for a certain machine. At the same time, backup images are marked as "infected" for recovery action.
AXCELIOS Cyber-Insight solution is not intended to replace other forms of real-time Malware detection. It is intended as a last line of defense in the backup process that detects attacks during or after it occurs. It helps in Data Recovery post-attack(s).
When implemented, the AXCELIOS Cyber-Insight solution Turns a ransomware attack into just another disaster recovery scenario. When integrated with the business data recovery process; attacks are detected early. Hence, the damage is minimized with limitations to data changes within backup images.
AXCELIOS UNIQUE CHARACTERISTICS:
Smooth vendor integration.
Powerful UI to manage and monitor all solution components.
Supports management and integration with most Networking vendors through API integration.
Multiple data protection vendor integrations.
Customized search parameters.
Customized API call configuration.
Fixed and Dynamic Airgap Workflow window.
Recovery profile to recovery for a complete application.
Automated workflow to automate and orchestrate your recovery process.

Backup Insights&Analysis

based on ML and contents based.
Smart alerting through Email or SMS.



Axcelios Cyber-Insight Solution is the best choice to manage and protect data to enhance your business continuity plan. To know more about Axcelios you can visit





ACUANIX | Data Management Solutions